Larry finished another puzzle.  This one was the skyline of Toronto.  Since he did this puzzle all by himself again, he chose the dinner.  He had already picked out his Canadian meal too.  He wanted pealmeal bacon and poutine.
Canadians know peameal bacon as an iconic national breakfast food, but the back bacon's backstory is even richer than its flavor. In fact, the story of peameal bacon is tied to several important themes of the last two centuries: the rise and fall of the British Empire, emigration and immigration, and the development of modern agriculture. But more than anything, the history of peameal is a salty tale of how Hogtown got its name, not to mention its most iconic sandwich.
Pealmeal bacon is a center loin pork loin cured in brine then rolled in cornmeal.  It is a traditional Canadian dish, that is specifically from Ontario.  We could not find anything specially from Toronto, so this would have to do for our puzzle and a meal series.  Pealmeal bacon is more like ham, when compared to smoked back bacon or side bacon. The cooked slices have been described as resembling small pork cutlets. It is eaten for breakfast, lunch or dinner, served in slices or as an ingredient in a pork dish.  The name "peameal bacon" derives from the historic practice of rolling the cured and trimmed boneless loin in dried and ground yellow peas to extend shelf life. Since the end of World War I, it has been rolled in ground yellow cornmeal instead of the yellow peas though.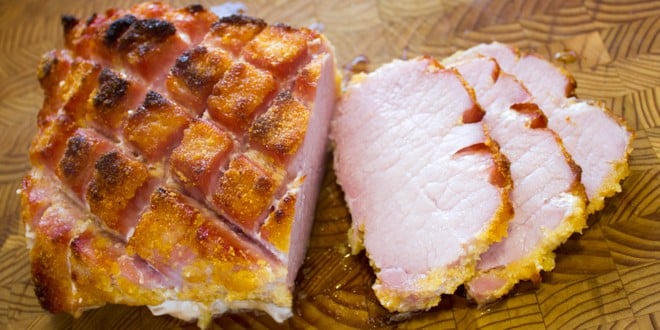 Larry made the brine for the pealmeal bacon and let it marinate for about 2-3 days before we cooked it up.
Brine for Pealmeal Bacon
2 cups water
1 cup apple cider vinegar
1/4 cup Kosher salt
1 TBSP garlic
2 TBSP sugar
2 TBSP Tabasco or other red pepper sauce
2 TBSP mustard seed or ground mustard
1 TBSP celery salt or celery seeds
pepper to taste
2 lbs pork loin
cornmeal
Mix all the ingredients together in a sauce pan except for the pork and cornmeal.  Bring them to a boil, then reduce the heat to a simmer and simmer for about 10 minutes.  Add ice cubes to the mixture then pour into a plastic bag and add the pork loin.  Let it marinate in the refrigerator anywhere from 3 days – 2 weeks before cooking.
When you are ready to cook the pork, pat it dry with a paper towel.
Completely coat the pork in cornmeal.  We used pork chops rather than pork loin, but it is the same concept.
You can either pan fry it or roast it.  I pan fried it this time, which made it nice and tender on the inside and crusty on the outside.
Once the pealmeal bacon is completely cooked, slice it up and serve it however you like.  In Canada, this is most often served as a sandwich.  I too made it into a sandwich, but I served it on some pita bread with some lettuce and tomatoes.
Larry also wanted poutine to go with his pealmeal bacon sandwich.  I opted for just plain French fries.  Sorry to all my Canadian friends, but poutine just sounds absolutely disgusting to me.  (More on poutine later).
Stay safe and stay well Everyone.  'Til next time.