I was inspired to try these delicious looking bread from our very own blogging family member, https://americaoncoffee.blog/. The pictures that were posted on https://americaoncoffee.blog/ looked absolutely irresistible and just scrumptious. So I printed up the recipe and decided to try it that day. And believe it or not, I actually followed the recipe too. Mine was still very good, especially since I love garlic bread, but mine was nothing like the inspirational pictures I saw. This is what happens when I follow recipes. They only turn out well if I do my own thing. It is just the rebel in me, I guess. Oh well. I guess that just means I still need to keep working on it. Oh darn! I'll have to eat more garlic bread! 🙂
This is how the cheesey-garlic pull apart bread was supposed to look.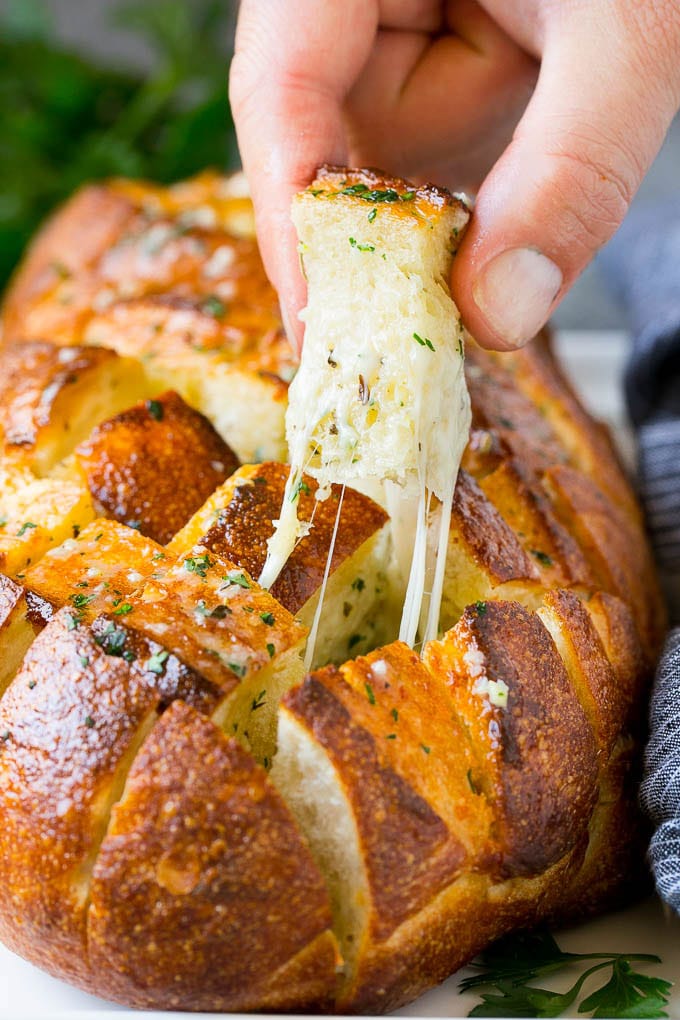 Mine was close, but it did not pull apart that easily nor was it this ooey and gooey. But it was still very tasty.
The recipe actually said to start with a good Sourdough loaf, so I went out and bought one. Then it said to mix 1 stick of softened butter with the garlic and parsley. Check. I did that too.
The next step was to make deep scores into the bread. Check. Done.
The next step was to stuff the butter and cheese into the deep bread pockets. Check. I did that too.
Sprinkle the top of the bread with the remaining butter and some salt. Check.
When ready to bake, preheat the oven to 350* F or 180* C, wrap the bread in foil and allow to heat through so the cheese melts completely for about 15-20 minutes. Check. I did that too. Like I said, I actually followed the recipe completely this time, but my bread never came out looking like the original picture.
HMMMMM!. I think next time, and there will most definitely be a next time too, I am NOT going to wrap it in the foil. I don't think my cheese ever got hot enough to really melt completely. Even when I reheated it again the next day, it never came out ooey or gooey. Live and learn. We all have those days, even me. Never give up though. Or as my idol, Ms. Julia, would say "Never apologize. Just act as if that is how it was supposed to turn out".
Stay safe and stay well Everyone. 'Til next time.