I usually start from coming up with a theme for dinner, and then find and create recipes that fit into that theme. That is actually why back in the day, I preferred catering to working in restaurants, although, I certainly have many, many years of experience in both. I love to theme cook. So when I made my Saltimbocca alla Pollo, which is Italian, I knew I wanted an Italian side dish to go with it. Saltimbocca alla Pollo. I found a recipe that sounded really delicious, but me being me, I couldn't just leave it without changing it and "Jeannefying" it. The original recipe was for artichokes Napoletano, which I turned it into Pasta Napoletano. I added more stuff, including the pasta. We all know I like "stuff in my stuff", so I stuffed my pasta and loaded it with Italian goodness.
"Along the side of the motorway, at the edges of fields and on scruffy wasteland, the most majestic of all of Italy's wild flowers reigns with nobility". The wild artichoke.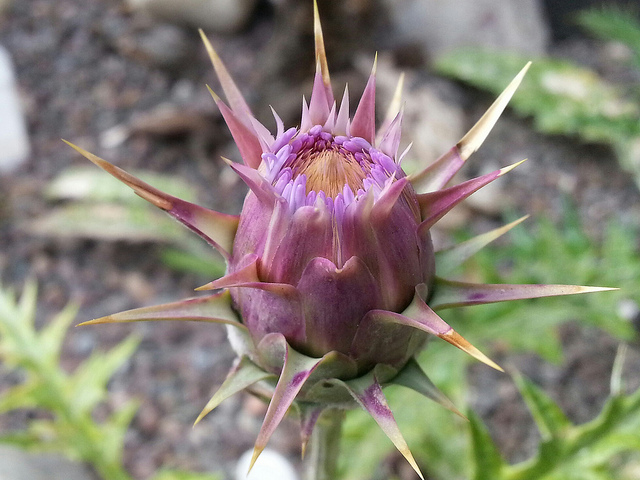 Artichokes have been a part of the Mediterranean diet throughout the ages. They were cultivated by the Arabs in the 4th century B.C. and have been used for medicinal purposes and delicious foods ever since. The Arabs named this soft-hearted, thorny flower karshuf or karshaf, which is very similar to the Italian name of carciofi. Artichokes were introduced to the Napoli region and from there, spread throughout the Italian world, where they have become a favorite food of the Italian people. Italy is the world's number producer of artichokes, producing almost 366,000 tons annually. Artichokes are eaten everywhere, and especially in the Mediterranean regions of the world. We love artichokes here in the United States too. California produces 100% of the artichokes consumed in the United States.
I am one of the many, many people who absolutely LOVES artichokes. I could eat them everyday and never get tired of them. That is why I am always delighted to find good recipes for artichokes, that I just have to make and share with all of you. For my pasta Napoletano, I started with artichoke hearts and created a recipe around them. I admit, I rarely purchase whole artichokes. They require too much work. I prefer them already prepared for me. But I buy canned artichoke hearts and bottoms all the time.
Pasta Napoletano
1 lb angel hair pasta, cooked
1 can artichoke hearts, drained
1 TBSP garlic
1-1 1/2 cups mushrooms – for this dish, I kept them whole
1/2 cup sundried tomatoes, in oil
1-2 shallots, sliced very thin
1 cup green olives, pitted and cut in 1/2
1 TBSP capers, drained
1/4 cup lemon juice
1/2 cup olive oil
salt and pepper to taste
parsley for topping
Parmigiano cheese for topping
Cook the pasta according to the directions.
Sautee the sundried tomatoes, shallots, capers, salt and pepper and garlic together in the olive oil for about 2 minutes, or until the shallots soften and become translucent.
Add the artichoke hearts, olives and lemon juice and continue to cook for about 10 more minutes or until the mushrooms are tender.
When the pasta is completely cooked, al dente style, spoon the vegetables and sauce over the pasta and top with both the parsley and the Parmigiano cheese. !Mangia e Buon Appetito!
Stay safe and stay well Everyone. 'Til next time.