It's Fat Tuesday, otherwise known as Mardi Gras, Carnival or Shrove Tuesday.  It is a day that is celebrated all around the world as the day before Ash Wednesday and the beginning of Lent or Lenten season.   It is called Fat Tuesday because it always falls on the Tuesday before Ash Wednesday and it is the last time Catholics are "supposed" to eat rich, fatty foods before the start of Lent.  Lent lasts for 40 days, and ends on Easter Sunday.
Many Spring and/or fertility celebrations are rooted in pagan history and beliefs.  It's not really known if Mardi Gras has any pagan ties or if it was just something that resulted from the Catholic Church frowning upon sex and the eating of meat during the Lenten season.
The first Mardi Gras celebration took place in the United States on March 3, 1699, when the French Canadian explorer Pierre le Moyne d'iberville landed about 60 miles down river from New Orleans on the day he knew it was Fat Tuesday (Mardi Gras) in France.  He named the place Point du Mardi Gras.  The first celebration that was the big grand daddy, like the Mardi Gras celebrations of today, with parades, costumes, dancing in the streets and masks was celebrated in Mobile, Alabama.  Who can lay claim to the oldest Mardi Gras Celebrations in America?  Is it New Orleans or Mobile?  This is an on-going debate.  We just may never know the answer to this question.  🙂  Either way, it is now the world's largest party.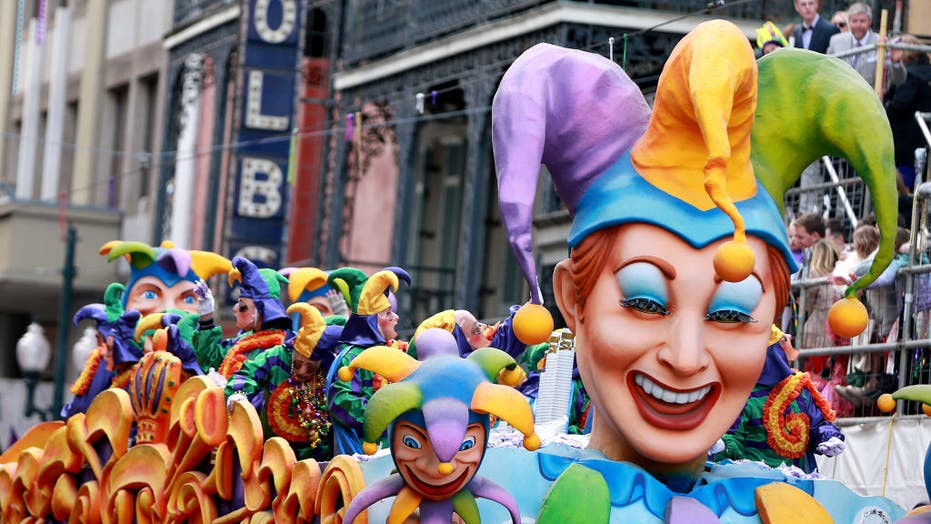 Along with the parades and costumes, it is customary to eat a King's Cake on Fat Tuesday.  It is only eaten during Mardi Gras time.  It is a cinnamon braided bread made from brioche dough that is decorated in in the Mardi Gras colors of green, yellow and purple.  A plastic baby is baked somewhere in the center of the cake and whoever finds the baby is responsible for bringing the King's Cake the next year.
I will be celebrating this Mardi Gras day too by going to Mardi Gras, or a Fat Tuesday party.  So let the good times roll
or as they say in French, laissez le bontemps rouler!