Hockey is BIG in our house.  Larry is a huge hockey fan, and he still plays too.  We go to a lot of Avalanche games.  We proudly support the burgundy and blue rainbow.  Normally we go to the games at the Pepsi Center, home of the Av's, but this time, the Av's were playing an outside game at the Air Force Academy, down in Colorado Springs.  We had never been there before.  It was a beautiful stadium.  It was also nice to support our Air Force and to see all the love they got and so deserve.
Colorado Springs is about 1 1/2  hours south of us. It is usually a nice pleasant drive.  There is a lot of construction on the freeway at the moment, so the drive down took us a little longer than it normally would, but that's OK.  We didn't mind.  It was still a pleasant drive.  We stopped for lunch at Red Robin first, then picked up our friends Brian and Peter so we all could carpool together.
The drive down to the Springs.
The Air Force Academy.  It was such a beautiful sight and a gorgeous location.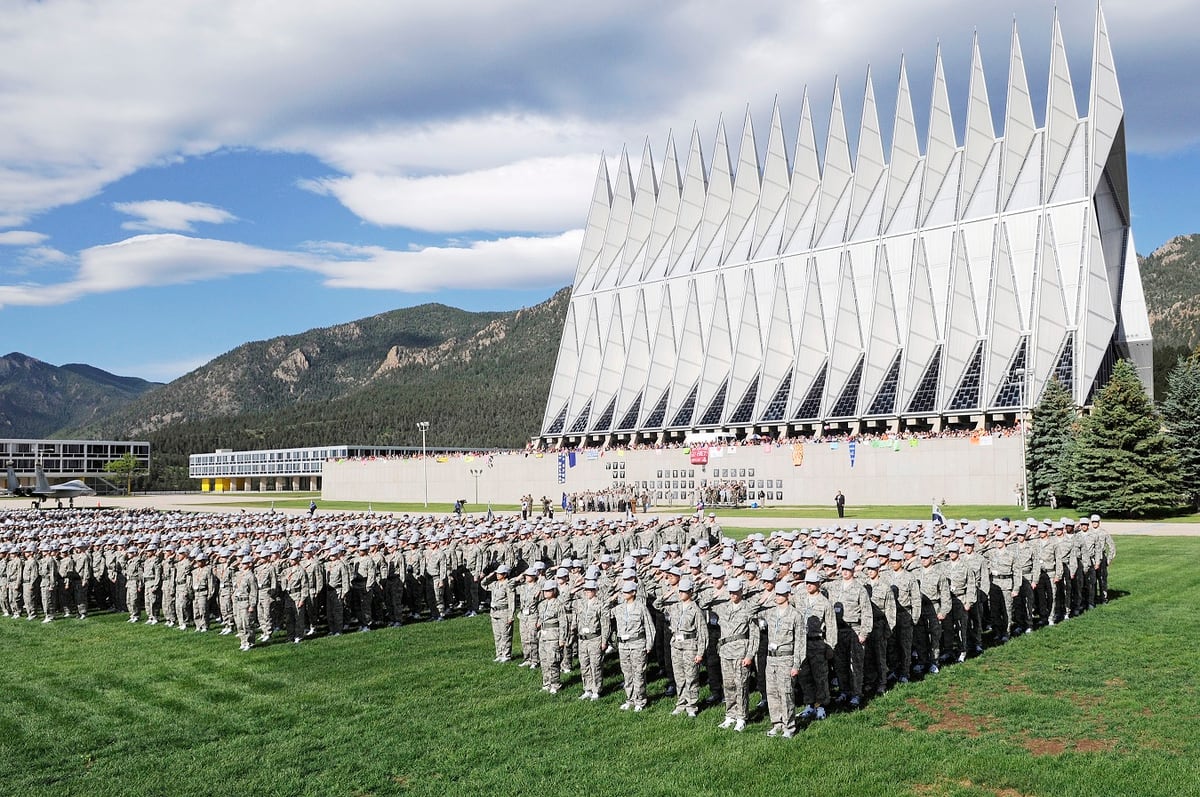 Before the game started, there were some fun fan appreciation things to see.  You can't see all our signatures on our jerseys, but we each have about 50.  We are loyal Av's fans.  The Oscar Meyer Weinermobile and the Planter's Peanutmobile were both on hand so we had to pose with them.
Peter photo bombing us.
And the real stars of the game, our Fly Boys, our American heroes.
After all the fan appreciation activities, it was time to head down to the rink.
As you can see, we were all bundled up.  It was pretty darn cold, and only got colder as the night fell.  We all had heavy jackets, gloves, hats, AND blankets and we were still cold.  My feet were blocks of ice..
Let the game begin.  The good guys – The Colorado Avalanche
The bad guys – The L.A. Kings.  It was a good game, but the bad guys won, 3-1.
This was SOOOOOOOO cool!!  A skydiver landing in the stadium carrying the flag all the way.  Sorry for the poor quality.  He was jumping out of a plane and was probably about 1000 feet up at this point.  God bless the USA!  May this flag forever wave.
Another adventure after the game was finding our car.  We searched the parking lot for about 20-30 minutes before finally finding our car.   Once we found it, we sat motionless for at least another 30 minutes before being able to inch our way out of the parking lot.  We left the house about 12:30 PM and did not get home until about midnight.  It was a long, but fun day, even if our boys in burgundy and blue lost.