We are now home from our magnificent trip to Spain.  I hope you have all been enjoying my special edition series on our Spanish adventures.  Now that we are home, it is time to open up "The Kitchen" once again, and get back into the routine of things here at home.
I have stated many, many times how I have been very lucky and blessed by making so many wonderful and unique connections through my blog, " A Jeanne in the Kitchen".  I am having a blast meeting so many fantastic people, learning about and being introduced to so many new products and hearing all the stories behind the scenes.
Right before our trip to Spain, I was connected to Kristin Morrill, the manager at Adams Natural Meats, located in Evergreen, Colorado, which is less than an hour from where I live.  Kristen asked if I was interested in learning more about the buffalo or bison meat, and would I be interested in meeting with her for a tour of the Colorado ranch.  Of course I was.  I jumped at the opportunity to meet with Kristin and the herd.  We arrived home from Spain last Tuesday, and Saturday, I was out with the buffalo.  Kristin is an absolute delight.  I felt like she and I had known each other for years.
The Evergreen, Colorado ranch.
The Arizona ranch, in Buckeye, Arizona.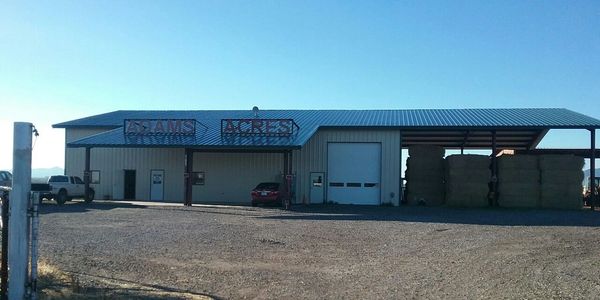 Kristin and I with Hank.
Adams Natural Meats was started in 1992, when the founder, Bryan Adams (no, not the singer), and his wife Mary inherited 3 bison calves in exchange for services.  At the time Bryan was working in the drilling and blasting business, here in Colorado.  After a short while, the Adams' moved to Arizona and started the Arizona Buffalo Company, which has evolved into Adams Natural Meats.  The motto of their company is "Striving for excellence … Growing with pride".  This motto is exemplified every day, with all Bryan and Mary do.  They are dedicated to humanely and naturally raising their bison to produce the best tasting and healthiest meats possible.  Though bison/buffalo meat is their specialty, they also have elk and beef products as well.
Bryan, Mary and the rest of their "family" use everything from the Bison and the elk.  Nothing is left unused or goes to waste.
Is there a difference between buffalo and bison?  Yes, there actually is.  The difference between a buffalo and a bison, is that the American Bison is native to North and South America and Europe, while the other two buffalo species reside in Africa and Asia, although the two terms are often used interchangeably.  Buffalo are also generally slightly larger than bison too.
Why buffalo meat over beef, you might ask.  Bison has a sweeter taste than beef, and can be prepared in many of the same ways.  Bison falls under the specialty or gourmet category of meats.  It is much leaner than beef, and is loaded with nutrition.  Bison has far less calories and less cholesterol than beef, and is very dense, so you are more satiated while eating less.  Bison is also a highly concentrated source of iron and other minerals that are essential for a healthy diet.
Meet the Colorado herd.  The others are in Arizona.  Each bison can produce about 600 lbs of meat on average.
We purchased some small pieces of meat as well as a bison roast.  For dinner, I used a couple of the smaller pieces to make some bison pitas.  They came out very good.  The sunflowers are from my backyard.
I made a quick and easy yogurt and vegetable sauce that I served over the cooked bison on top of warmed pitas.  I also made some couscous and French fries and served everything with a delicious red blend wine to complete the meal.
Yogurt and Vegetable Sauce
1 cup plain yogurt
1 tomato, diced fine
1/3 cucumber, peeled and diced fine
1/4 red onion, diced fine
1 TBSP garlic
2-3 TBSP lemon juice
black pepper to taste
red pepper flakes to taste
1 tsp each oregano and basil, dried or fresh is fine
a dash of sweet or smoky paprika
Mix everything together well, and serve either over your meat or on the side.
I just sauteed the meat with a little salt and pepper in olive oil.  It only takes a couple of minutes to cook.
If you are interested in learning more about or ordering your bison from Adams Natural Meats, you can find them on line at either http://www.adamsnaturalmeats.com or adamsnaturalmeats@aol.com.  Or feel free to visit them in Evergreen when you are in town.  They are located at 33850 Hwy 40, Evergreen, CO 85326.  You can call them at  (303) 674-3123 too.  Kristin will be more than happy to help you out with whatever you need.